SHOCKLOG 248 FEATURES
Record max peaks X, Y, and Z and internal temperature
Record impact events
Optional temperature/humidity sensor can be built into unit
Field-proven triaxel piezoelectric accelerometer technology
iButton® and USB data transfer options
Self-contained unit design, free of cables and wires
User-definable alarm levels
LED lights for visual notification of alarms and warnings
Programmable wake-up values for maximizing battery life
IP67-rated, RF-screened
Show direction of impact—X, Y, and Z
ShockLog 248 Shock Data Logger
ShockWatch ShockLog(R) 248 monitors and records impact and environmental conditions experienced by any type of structure or equipment, whether in use, transit, or storage. The device alerts you when damage may have occurred, so you can respond promptly. ShockLog impact recorders help deter mishandling by increasing accountability at every step of the journey.
The iButton® allows for easy access control during startup, shutdown and setup. A full journey report can be downloaded using the iButton while keeping the unit secure and tamper proof.
Records first plus the 14 most severe events (detailed curves)
Delivers notification of up to 128 events (event summary log)
Up to 262,000 time slots
SHOCKLOG 248 APPLICATIONS
Logistics/Transport and Storage
Chemicals/Petro-Chemicals
Aerospace and Defense
Furniture and Fixtures
Forestry and Wood Products
Metal Fabrication
Energy and Utilities
Telecommunications Electronics
Computer Hardware
Auto and Truck Parts
HVAC
Manufacturing
Medical Devices and Supplies
Fiber Repeater
Food and Beverage
Industrial Equipment
Marine
Robotics
Construction Supplies & Fixtures
Railroads
Pumps and Motors
Packaging/Crating
Water Treatment/Filtration
Glass
Mining
Scientific and Technical Instruments
CNC Equipment
Operating Temperature Range
1.1 lbs (without battery)
One (1) 3.6V Lithium Thionyl Chloride OR One (1) 1.5V Alkaline Size AA
Acceleration Range (Factory Set)
Cut-off Frequency Options
Warning and Alarm Threshold (% of Range)
-40°F to 185°F, 0–100% RH
Magnetic Mount
ShockLog magnetic mounting plate kits are available for purchase. Once a ShockLog unit is attached to the mounting plate, the plate can be mounted to a metal surface.
ShockLog Companion Label
A companion label provides an additional visual warning and instructions on what to do if mishandling occurs.
We added a satellite module to the world's best impact recorder. Now you can get alerts as soon as an impact occurs.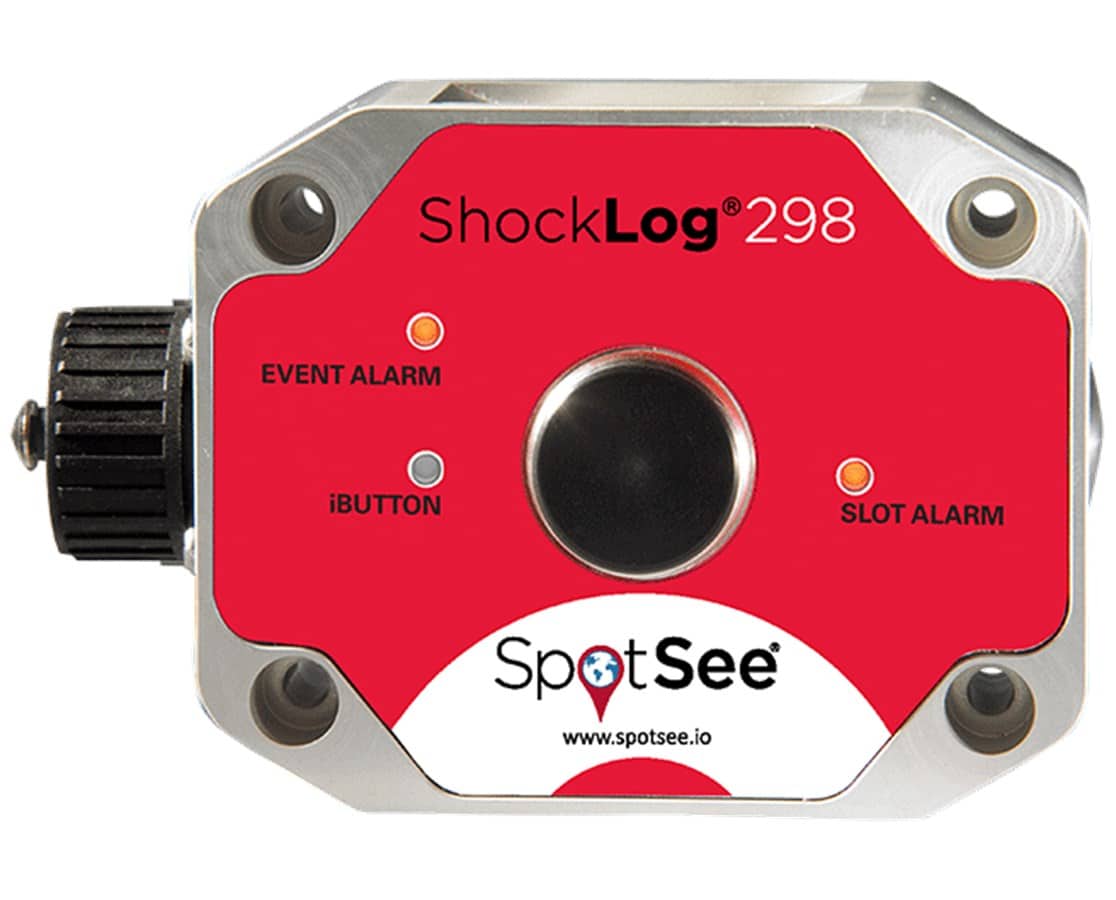 The impact recorder with the lowest noise floor on the market lets you monitor assets weighing up to 250 tons.
We added a cellular module to the world's best impact recorder. Now you can get alerts as soon as an impact occurs.