SpotBot 4G Plus Features
Monitor location, impact, temperature and humidity
4G LTE-M and connectivity
Access to information through a secure, dedicated web portal
Accurate reporting of unacceptable conditions
Custom, timely alerts of changing conditions of your shipment
SpotBot 4G Plus: Impact, Temperature, Humidity and Location Monitor
Reduce Damage and Optimize Your Supply Chain with GPS, Cellular and WiFi Connectivity
Supply chain transparency is critical in running an effective operation. Track impact, temperature, humidity, and location with the latest generation of our SpotBot® 4G Plus.
The SpotBot® 4G Plus is the ideal solution for connecting you to your supply chain. Delivering tri-axial impact, temperature, and humidity monitoring along with location tracking, the SpotBot connects you to your assets via the SpotSee Cloud. Login to see the status of your shipment and receive alerts throughout its journey.
Created for use in the life sciences, automotive, electronics, power generation and aerospace industries, the SpotBot 4G Plus provides extensive insights into the condition of a product or shipment through the supply chain. Detailed location, impact, temperature, and humidity data are delivered to the SpotSee Cloud via the 4G LTE-M cellular network or through known Wi-Fi connections. The device combines GPS technology with proximity sensing of Wi-Fi signals and cellular towers to track the location of shipments and the conditions they experience in transit.
World Class Monitoring
Companies around the world depend on SpotSee for impact monitoring solutions. The SpotBot 4G Plus measures impacts between 3.5 and 100G, meaning that it can be used to monitor a broad spectrum of assets from medical devices to automotive parts to power generation equipment. Additionally, the accuracy of the SpotBot's temperature and humidity sensors is ideal for monitoring sensitive biotech, pharmaceutical, or diagnostics products.
Long Battery Life
SpotBot 4G Plus employs three different approaches to provide the most accurate location reporting available at any given time. The device will utilize GPS or proximity to WiFi signals or cellular towers to deliver location information. The SpotBot also has geofencing capabilities, so that users are notified when an asset reaches its destination.
Global Communication Capabilities
The SpotBot 4G Plus communicates via the 4G LTE-M cellular network. This network provides better power efficiency and signal range than 4G LTE, making it an ideal solution to monitor assets moving around the globe. In addition, the SpotBot can be configured to recognize and communicate via known WiFi networks.
Easy to Use
The SpotBot 4G Plus unit and trip settings are configured via a simple web application. Information from each trip is stored in the secure SpotSee Cloud and can be easily downloaded to provide the time, location, and severity of excursions experienced during transit.
GPS, Nearest Cell Tower, Nearest WiFi
Screw Mount / Adhesive / Magnetic Feet (Optional)
1 hour/1 year
2 hours/2 years
4 hours/3.5 years
8 hours/5 years
12 hours/6 years
24 hours/7 years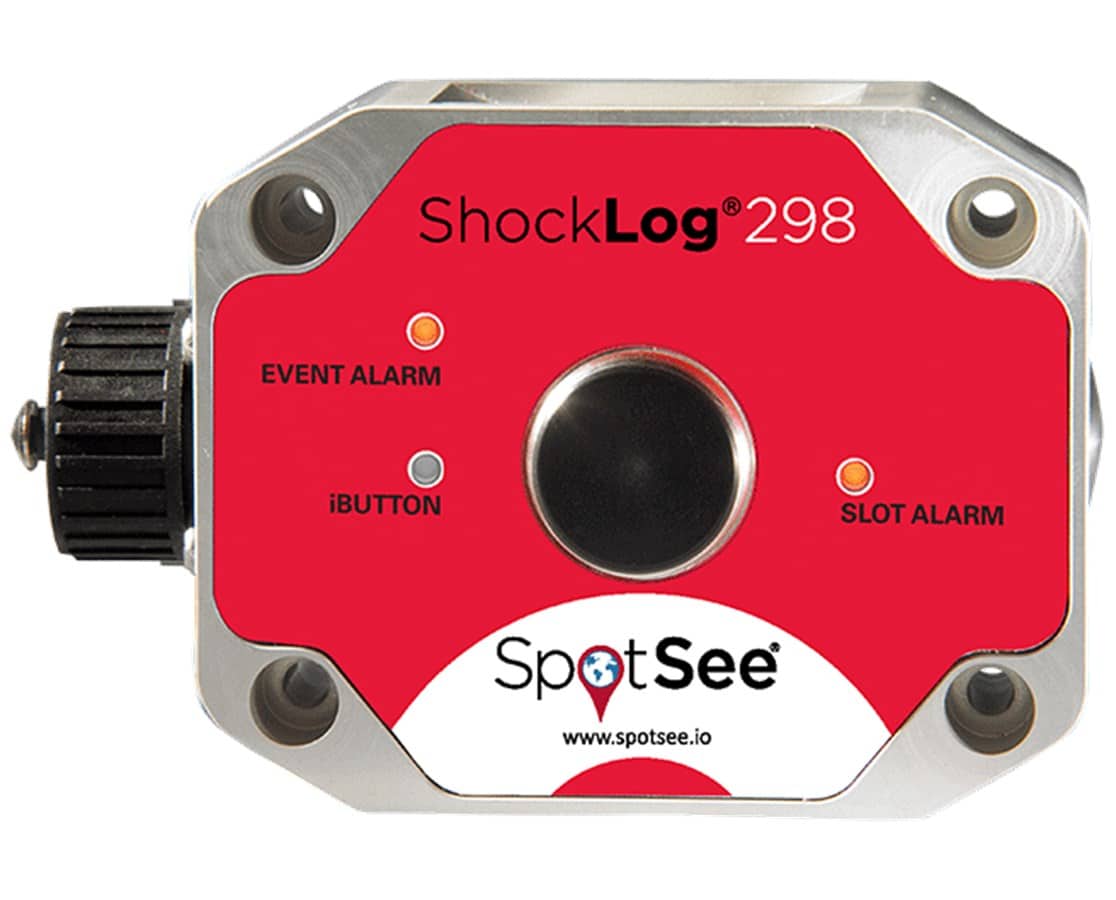 The impact recorder with the lowest noise floor on the market lets you monitor assets weighing up to 250 tons.
Visualize impact and temperature damage in your supply chain and get real time alerts that show where it occurred.