SHOCKLOG CELLULAR FEATURES
Real-time Out-of-Tolerance Condition Notifications
24/7 Access to Trip Data from Anywhere in the World
Detailed Impact Analysis on the ShockLog Software
Global Low-Cost Connectivity with No Roaming Fees
Shock & vibration technology used by the best engineers in the world
18 Months of Recorder Battery Life
90+ Days of Connectivity Battery Life
No Data Interruptions From Unreliable Solar Energy
Robust Impact Analytics & Recording
No Loss of Data if Battery Dies & Keeps Recording for 15 Additional Months
ShockLog Cellular Real-Time Shock Recorder
Cargo theft spiked nearly 50 percent in the U.S. and Canada during the height of the COVID-19 pandemic, compared to the same period in 2019, according to CargoNet figures in Loss Prevention Magazine. By mid-March, cargo theft spiked to 150% of normal. By late April, it was still up 140%. Some of the thefts occurred while trucks were idle, while others involved fictitious pickups for goods ranging from copper scrap, to whiskey and nitrile gloves.
A comprehensive loss prevention and risk management program that incorporates real-time cellular monitoring and an impact data logger may help minimize this risk and others.
Many thieves are less likely to steal cargo they know is being monitored. Opportunistic thieves will go on to easier targets because they typically don't know whether the monitor includes GPS tracking. Handlers react with more care when they see cargo monitoring, too. 
For you, changes in handling can signal that something is wrong, so you know to contact your carrier. For example, you know your cargo was loaded onto a truck at the Port of Los Angeles and should remain there until it reaches Dallas. An unexpected impact mid-transit means there has been an accident, cargo shifted, or your freight was hijacked none-too-gently. With real-time notification, you can notify the carriers, who can notify authorities.
ShockLog Cellular shock recorder, adding cellular connectivity to the ShockLog 298 impact recorder, sends you a text or email whenever an impact exceeds your pre-set thresholds, anywhere there is cell service. And because this shock recorder features SpotSee's proprietary piezoelectric accelerometer, you know the direction and velocity of impact along X, Y, and Z axes — so you can tell whether it was pried off a truck or bumped by a forklift, for example.
The ShockLog® Cellular combines the powerful monitoring capabilities of the ShockLog 298 impact recorder with a cellular communication module to deliver real-time notifications of unacceptable handling in the supply chain.
This easy-to-use device utilizes a proprietary piezoelectric accelerometer designed and manufactured by SpotSee that provides industry-leading impact analysis with the lowest noise floor on the market.
Get alerts in real-time when your shipment has experienced an out of tolerance impact, temperature, humidity, tilt, or roll condition. The information is accessible 24/7 via the user-friendly SpotSee Cloud from anywhere in the world.
Read More
Analyze Shock Recorder Data to Optimize Your Supply Chain
A detailed impact data logger report can be downloaded from the SpotSee Cloud at any time during the journey without affecting recording. With 18 months of recorder life and 90 days of data transmission capabilities, even long, transcontinental transits can be recorded and accessed in real time almost everywhere.
You can perform in-depth data analysis either by accessing the SpotSee Cloud or via ShockLog Report View. This detailed overview of the entire journey helps you identify patterns in threshold events, including impact, temperature, humidity, tilt, or roll.
ShockLog Cellular's robust condition-monitoring capabilities are designed to give you deep insights into the supply chain that you can use to spot current damage and prevent future damage.
The SpotSee connectivity infrastructure provides low-cost global connectivity without roaming charges.
ShockLog Cellular deliver 90+ days of battery life without reliance upon a solar energy source that could cause data interruptions.
With cargo loss exceeding $50 billion annually, transparency in the supply chain is key to improving your operations. The ShockLog Cellular enables you to know that your assets are traveling safely to their destination and if something has gone wrong, you know when and where the issue occurred.
With the capacity to record data for 870 events and 262,000-time slots, the end of the journey, if alarm conditions need to be further analyzed, the full data set can be downloaded into the ShockLog software for a more detailed view of the recorded data. The ShockLog Report View provides an overview of the entire journey: peak acceleration values for all three axes, detailed impact curves, and temperature.
To learn strategies you can use to enhance insights into your supply chain, contact SpotSee.
Read Less
The ShockLog 298 is offered as a stand alone or connected device: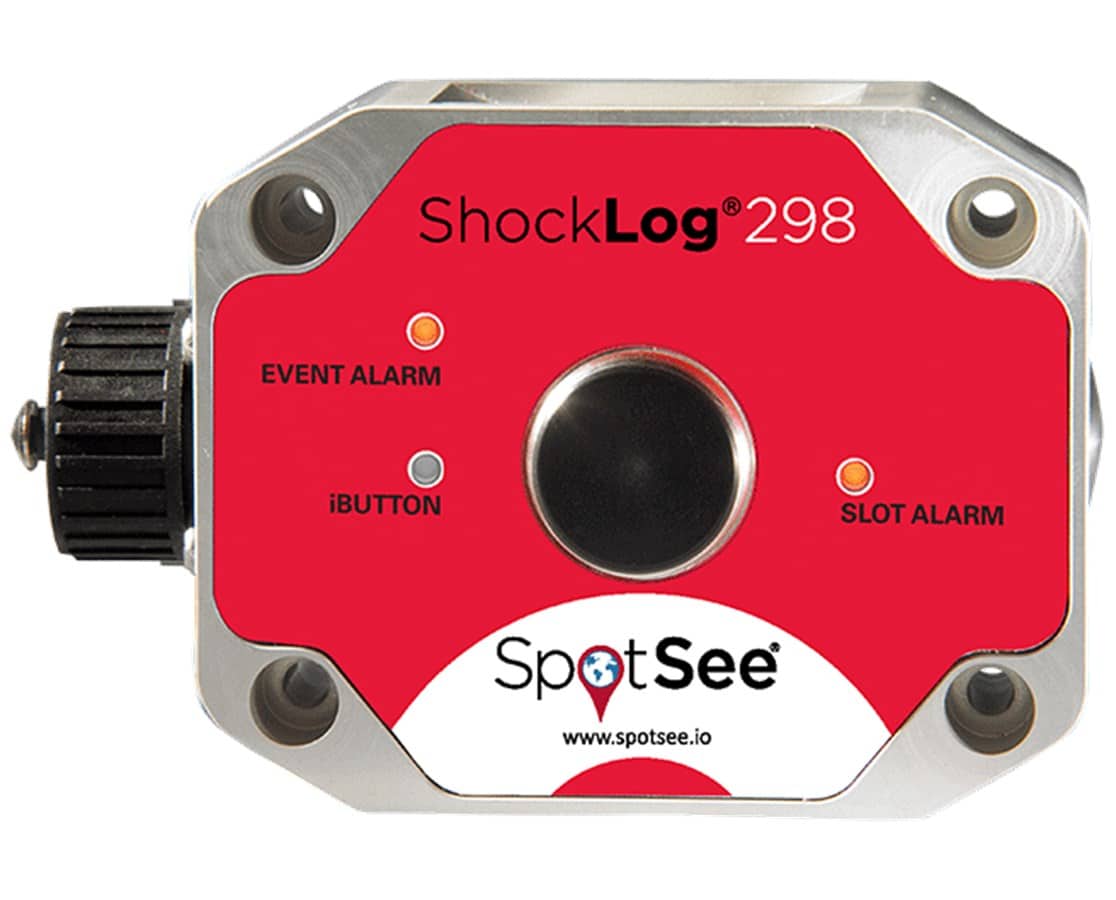 Best in Class Impact Recorder
Not connected
Data download via USB
ShockLog Software for setup and analysis
Best in Class Impact Recorder
Connected via Cellular
Data in SpotSee Cloud and download via USB
ShockLog Software for setup and analysis
Best in Class Impact Recorder
Connected via Satellite
Data in SpotSee Cloud and download via USB
ShockLog Software for setup and analysis
SHOCKLOG CELLULAR APPLICATIONS
Power Generation
Industrial Transformer
Industrial Generator
Gas Turbine
Air Turbine
Steam Turbine
Oil & Gas
Rigs
Pump Systems
Tool Baskets
Heavy Machinery
Break Bulk Cargo
Logistics/Transport and Storage
Mining Equipment
Construction Equipment
Energy and Utilities
Any long, heavy or over sized goods
Scientific and Technical Equipment
Large Medical Device
Aerospace and Defense
Industrial Equipment
Cooling Towers
Cranes
Environmental Machinery
Operating Temperature Range
7.00 in x 11.35 in x 2.20 in
2 x 3.6V AA Lithium (ShockLog)
6 x 1.5V Lithium AA Batteries (Cellular Module)
18 months (ShockLog) / 90+ days (Cellular Module)
Additional Error Other Ranges
Acceleration Range (Factory Set)
Cut-off Frequency Options (Programmable)
10Hz, 40Hz, 50Hz, 90Hz, 120Hz, and 250Hz
Wake-up, Warning, and Alarm Threshold (% of Range)
External Power Source Option
Global Cellular 3G / 2G Fall Back
Windows 10, 8, 7, Vista, XP
Technical Support
Below you will find technical support videos to help you get started once you have purchased our products and services.
Didn't Find The Answer To Your Question?
ShockLog Cellular Configuration
ShockLog Cellular Battery Installation
SpotSee Cloud Overview
Using The ShockLog iButtons
ShockLog Software Overview
ShockLog Software Installation
ShockLog Quick Setup
ShockLog Configuration
ShockLog Battery Installation
ShockLog Advanced Configuration Settings
ShockLog Reviewing The Data
ShockLog Companion Label
A companion label provides an additional visual warning and instructions on what to do if mishandling occurs.
We added a satellite module to the world's best impact recorder. Now you can get alerts as soon as an impact occurs.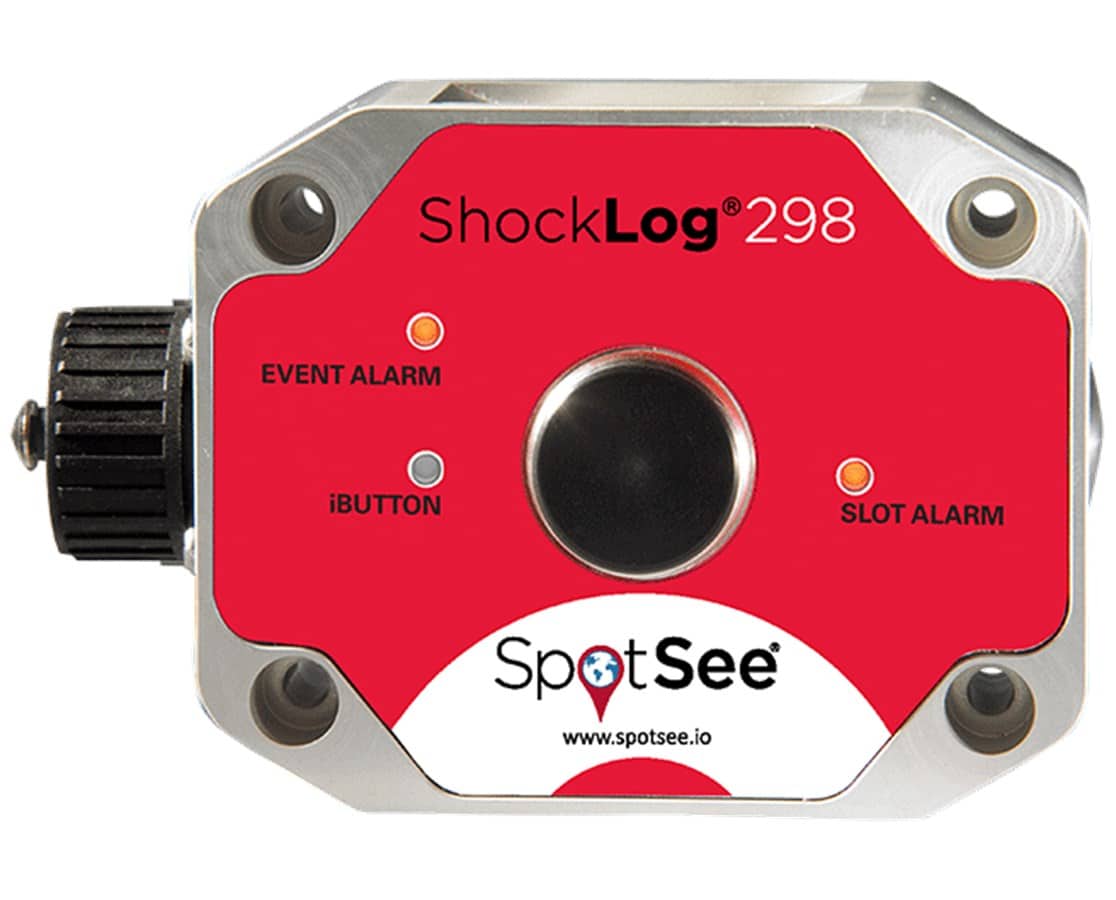 The impact recorder with the lowest noise floor on the market lets you monitor assets weighing up to 250 tons.
Visualize impact and temperature damage in your supply chain and get real time alerts that show where it occurred.