SHOCKLOG SATELLITE FEATURES
Best-in-class recording and post-journey analytics
Web-hosted tracking application
Real-time reporting of critical events
Robust power source that eliminates the need for solar backup
Knowledge of shipment delays while en route or in customs
ShockLog Satellite GPS-Equipped Accelerometer Data Logger
Satellite Connectivity Enables Accelerometer Data Logger Benefits Anywhere on Earth
The ShockLog® Satellite Impact Recording and Satellite Tracking System, formerly ShockTrak™, combines the flagship ShockLog® 298 Impact Recorder and a satellite communication module to deliver outstanding impact recording, real-time reporting and asset location. The system is preprogrammed with parameters optimized for your asset. Want to customize the impact recorder settings in house? The ShockLog 298 has a user-programmable impact scale and frequency filters, offering the most versatile option for users. Monitor and report impact events, vibration and internal temperature as well as peak value (time slot) and summary period journey profile data. Know when and where unacceptable conditions have been encountered and get location updates every four hours.
Satellites already provide wide coverage for real-time impact monitoring throughout the supply chain. In the coming years, coverage will improve dramatically, as hundreds of small communications satellites go into service and bring communications to regions off the beaten track. That includes major highways as well as country roads and, importantly, oceans. As a result, communications will be possible almost everywhere on earth.
This means you can track supplies, parts, and products in real time, receiving email or text alerts whenever they experience potentially damaging impacts. Consequently, this impact recorder lets you triage cargo, flagging assets that experienced shocks for careful evaluation and allowing carefully handled cargo to enter your inventory system or be shipped to customer.
Read More
Use Impact Recorder Data to Intervene Immediately and Plan for the Future
With the ShockLog® Satellite Impact Recording and Tracking System, you can receive email or text alerts of unacceptable conditions that your product has encountered which may affect its performance or safety. Armed with this information, you can take immediate action before the shipment is received or plan remediation before final installation of the asset in the field.
Satellite communication requires a line of sight to the sky. If ShockLog® Satellite loses it's line of sight to the sky at the time of an event it will still be recorded and available for download and analysis after the trip.
The ShockLog Satellite impact data logger brings immediacy to logistics monitoring. No matter how far away your asset is from your control center, you can have tri-axial impact data that helps you understand the current state of your assets. This impact recorder's user-programmable impact scale and frequency filters allow you to program the impact thresholds that best suit your needs.
You can use this information in two broad ways.
First, you can learn exactly what conditions this cargo experienced to identify damage that may otherwise go undetected. With real-time information, you can intervene to minimize further damage and repair or replace items before they reach your customer, thus enhancing your corporate reputation.
Second, you can use impact monitoring data as part of a comprehensive risk management program to identify trends throughout your supply chain. By tracking cargo over time, in real time, with GPS and accelerometer data, you can identify carriers, lanes, and routes most often implicated.
By understanding the force impacting your cargo, monitored with an impact data logger, you can also redesign packaging to increase its strength in key areas or take other steps to prevent damage before it occurs.
To learn more about how satellite-based accelerometer data loggers can give you deeper, actionable insights into your supply chain, contact SpotSee.
Read Less
The ShockLog 298 is offered as a stand alone or connected device: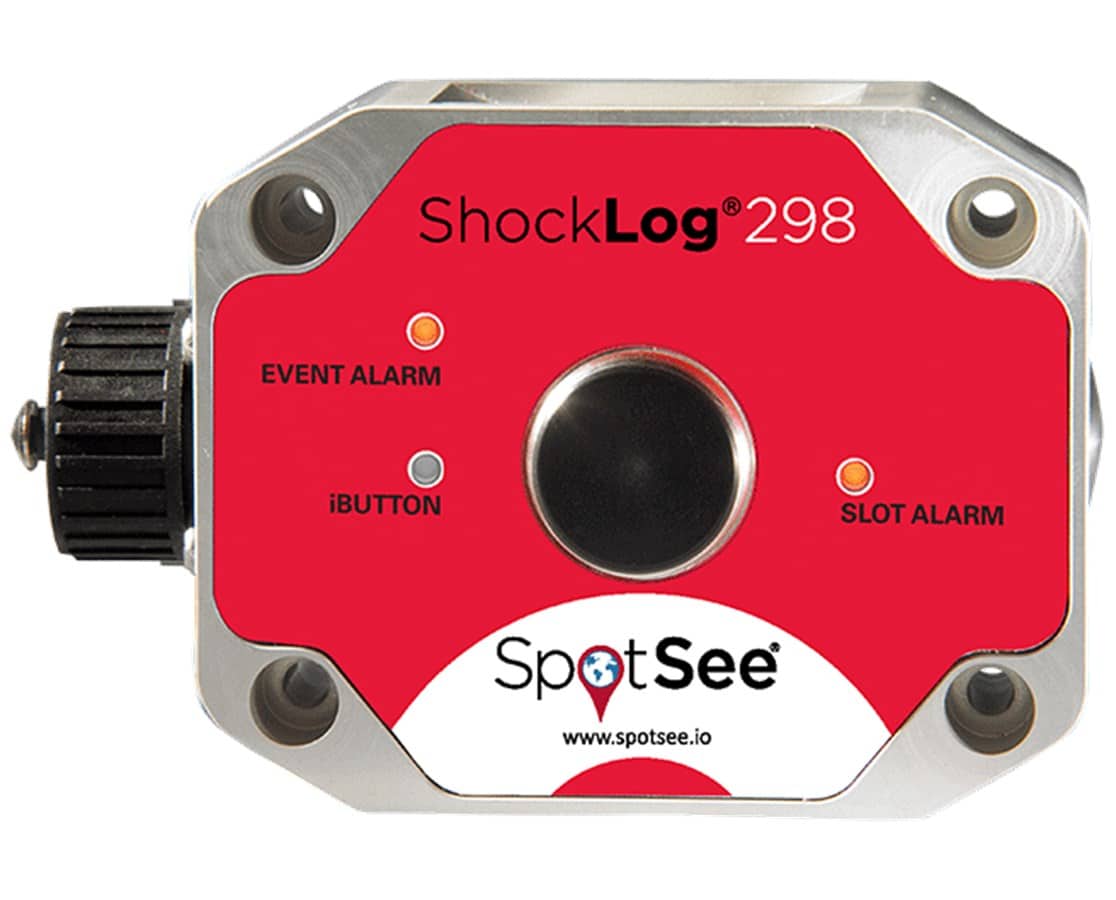 Best in Class Impact Recorder
Not connected
Data download via USB
ShockLog Software for setup and analysis
Best in Class Impact Recorder
Connected via Cellular
Data in SpotSee Cloud and download via USB
ShockLog Software for setup and analysis
Best in Class Impact Recorder
Connected via Satellite
Data in SpotSee Cloud and download via USB
ShockLog Software for setup and analysis
SHOCKLOG SATELLITE APPLICATIONS
Logistics / Transport and Storage
Chemicals/Petro-Chemicals
Aerospace and Defense
Forestry and Wood Products
Energy and Utilities
Electronics – Telecommunications
HVAC
Aerospace and Defense
Industrial Equipment
Marine
Robotics
Electronics
Wafer Fabrication Equipment
Railroads
Biotechnology and Drugs
Glass (Large Architectural Panels and Windows
Scientific and Technical Instruments / Research
Medical Devices and Supplies (Large Trailer Packages – CT, MRI, CT/PET)
Operating Temperature Range
12.61 in x 9.41 in x 4.69 in
2 x 3.6V AA Lithium (ShockLog)
1 x 3.6V AA Lithium (Interface Board)
4 x 1.5V AA Lithium (Internal Satellite Module)
4 x C-Sized Lithium (External Satellite Module)
12 months (ShockLog)
12 months (Interface Board)
3-18 months (Internal Satellite Module)
60-90 days (External Satellite Module)
Scale Factor Accuracy at 5G
Additional Error Other Ranges
Cut-off Frequency Options (Programmable)
10Hz, 40Hz, 50Hz, 90Hz, 120Hz and 250Hz
Wake-up, Warning, and Alarm Threshold (% of Range)
Global LEO Satellite operation using Globalstar Simplex Data Networks
Windows 10, 8, 7, Vista, XP
Technical Support
Below you will find technical support videos to help you get started once you have purchased our products and services.
Didn't Find The Answer To Your Question?
Viewing Shocklog Satellite On The SpotSee Cloud
Shocklog Satellite Battery Replacement
Shocklog Satellite Configuration
Shocklog Satellite Battery Replacement
SpotSee Cloud Overview
Using the ShockLog iButtons
ShockLog Software Overview
ShockLog Software Installation
ShockLog Quick Setup
ShockLog Configuration
ShockLog Battery Installation
ShockLog Advanced Configuration Settings
ShockLog Reviewing The Data
ShockLog Companion Label
A companion label provides an additional visual warning and instructions on what to do if mishandling occurs.
Visualize impact and temperature damage in your supply chain and get real time alerts that show where it occurred.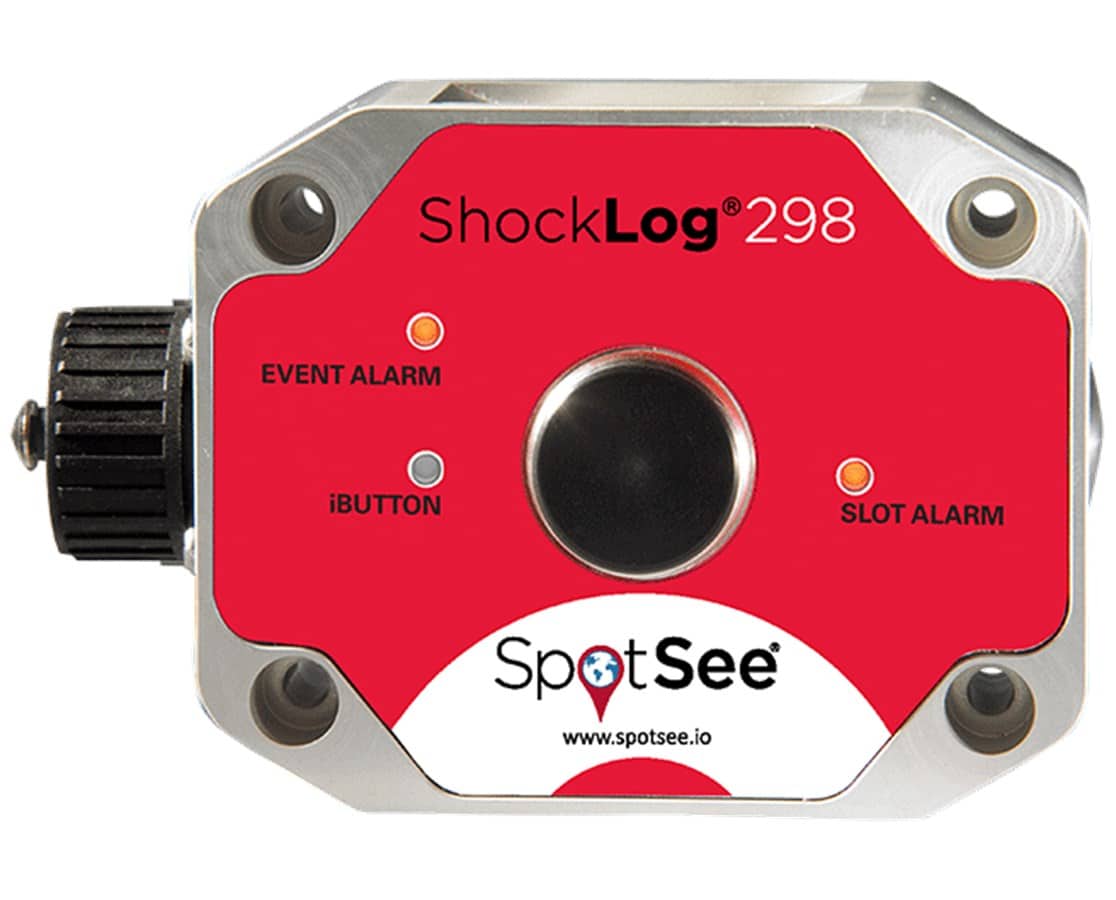 The impact recorder with the lowest noise floor on the market lets you monitor assets weighing up to 250 tons.
We added a cellular module to the world's best impact recorder. Now you can get alerts as soon as an impact occurs.