OPSWATCH FEATURES
Alert users to inspect equipment for potential damage
Enhance preventative maintenance plans
Real-time vibration monitoring allows fast corrective action
OpsWatch – Vibration Monitoring and Analysis
Real-time vibration monitoring visualizes changes to equipment's low-frequency vibration levels and identifies changes when they occur. The vibration monitoring system provides alerts when vibrations go outside of the normal range and streams condition-based data to central operations through a web-hosted platform via WiFi or Ethernet communication.
Detects vibration that competitors cannot
Widest temperature range for harsh environments
One unit, one footprint
Measures the most intense vibrations
All-in-one design reduces the probability for RF interference by at least 10x
Allows you to continues measuring when other units have stopped
All of the above at the lowest cost
Read More
Optimize Maintenance Resources with OpsWatch
Equipment vibrations are inevitable, but they cause machinery to slip out of calibration and trigger downstream problems. Top drives for on- and off-shore drilling rigs, rotary screw compressors, fin fans, conveyor belt drives, hydraulic fracking equipment, pipes, wastewater treatment plants, and a host of other equipment and industries all face problems caused by low-frequency vibrations.
Maintenance managers try to minimize those problems with regularly scheduled maintenance, but all too often the problems don't manifest until something breaks. Then, equipment must be taken out of service, leaving workers scrambling to find replacements while productivity wanes and schedules slide.
Wouldn't it be better to learn about issues before they become problems?
Vibration monitoring is an integral part of machine condition monitoring programs. All equipment with belts, gears, bearings, drive motors, and other moving parts have a range of normal vibrations. Changes in those vibrations signal a decline in operation function. They should trigger proactive repairs to avoid more serious equipment faults and failures.
But first, maintenance personnel must know about them
SpotSee's OpsWatch vibration monitor provides the early alerts that workers[AK1] and managers need, streaming condition-based data to central operations through a web-hosted platform using WiFi communications. With OpsWatch, maintenance professionals learn of pending equipment failure before it happens, while they can prevent unscheduled breakdowns and the cascade of other failures that often follow. Sometimes, simply tightening a belt can prevent a whole range of more complicated issues.
Importantly, OpsWatch continuously records vibrations and when vibrations occur that are outside of the normal range, it sends instant alerts. As a result, maintenance personnel can schedule preventive maintenance for opportune times and can order needed parts before they are in crisis mode because equipment failed on the job.
This means two things: maintenance operations run smoother because crises are minimized, and productivity is maintained because downtime can be scheduled. This also means maintenance can be based on how a specific piece of machinery is performing.
OpsWatch's sampling rate ranges from 1,000 to 5,000 times per second. It detects vibrations as low as 1Hz and works in temperature between -22°F and 185°F to accommodate even the harshest environments.
Its all-in-one design reduces the probability for RF interference by at least ten-fold, ensuring that low-frequency vibrations are recorded and that alerts are issued in real-time when they are needed.
Maintenance personnel gets the insight they need when they need it before breakdowns are eminent. Managers can use this data to fine-tune their maintenance operations. For example, correlating vibrations to repairs helps managers predict likely problems. Analyzing historic trends, then, helps maintenance departments adjust work schedules and allocate time and resources where they are most needed. It also gives them deeper insights to help determine what can be repaired and what should be replaced.
Data output is visual, so managers easily can analyze trends in low-frequency vibrations, whether they are on-site or working remotely.
Contact SpotSee to learn how OpsWatch can help optimize your maintenance resources.
Read Less
Onshore Drilling (top drives)
Offshore Drilling (top drives)
Industrial Pumps
Hydraulic Fracking
Aggregate Material Equipment
Conveyor Belt Driver Systems
Pulp and Paper
Fin Fans
Industrial Combustion Gas Engines
Iron & Steel
Energy and Utilities
Construction
Pipe Vibration
Waste Water Treatment Plants
Cooling Towers
Rotary Screw Compressors
Facilities Management
Mining
Operating Temperature Range
1000-5000 samples per second
Velocity Ranges (Programmable)
±1 cm/s, ±3 cm/s, ±10 cm/s, ±30 cm/s, ±100 cm/s, ±200 cm/s
Vibration Monitoring
Where seconds matter to your overall operation, technology and data combine to allow you to see beyond the big picture. After all, the savings and profits are in every tweak of the finer details. SpotSee's products help you see where to apply these adjustments to maximize your efficiency, save time, and save money.
What is Vibration Monitoring?
Vibrational monitoring provides industries with a short feedback loop for mechanical equipment, goods in transit, as well as product/packaging design and research. It allows you to record the movements you are unable to see and track it with a simple sensor. Throughout the life cycle of a motor, it vibrates at a given frequency. As that motor approaches the end of its life, the vibrational frequency and amplitude tends to change in a linear way until the motor fails. Packages shipped will vibrate at a consistent frequency relative to their input frequency. Everything we touch throughout our day has a resonant or natural frequency, or a frequency that it 'likes to shake' at. Using a vibration monitoring system provides real time data to track unseen motion either due to small oscillations or proximity.
Why is Vibration Monitoring Important?
The feedback loop from vibrational monitoring provides insight that operators and handlers cannot gain without assistance. How many times have you walked by the same piece of equipment and heard that familiar hum that lets you know the machine is running? Have you ever noticed that hum moving up or down in pitch; faster or slower? That is the machine's way of saying "hey, something has changed inside me." When monitored over time these changes in frequency can reveal how a machine is aging and provide advanced warning to machine failure. Typically, an aging motor will rise in pitch until it fails. If that machine is in a loud atmosphere or perhaps has operators who run it, frequency changes may go undetected until it's too late. Replacement parts can be days, weeks, or months away. Expedited shipping costs only add salt to the wound. Vibration monitoring helps predict eventual failure so replacement parts or service can be pre-ordered or scheduled in advance. That leaves your equipment down only for the amount of time of the repair, saving fabrication and shipping time. Further, a machine under increased stress will also change how it is vibrating. So, if an operator is pushing a piece of equipment too hard, monitoring can show you this in real time. After shipping a package, it's more than certain that it'll vibrate while in transit. It may be the medium frequency- low amplitude vibration of the truck while it drives down the road. Perhaps it's the low frequency-medium amplitude vibration picking up the package or setting it down. Or it could be a low frequency-high amplitude vibration of the package falling off a shelf onto the floor, being shoved into a truck, or the worst-case scenario of an in-transit accident. Without proper monitoring and assessment, all you may know is that the packaged arrived damaged. Do you have a product that often incurs damage during shipping? Vibration monitoring can show you why. Perhaps your shipping partner is doing all they can to keep your products safe, but too many of your products are arriving damaged. Every object that has mass has a natural frequency as well as other resonant frequencies. When you knock on an object, the sound you hear is a result of the combination these frequencies. These resonances are where the object 'likes to shake.' These resonances are just a function of the shape and materials we use to design our products. However, if a truck, elevator, conveyor line, etc. vibrates with a resonant or natural frequency that matches your product, it can dramatically increase the amplitude at which that frequency occurs. This can cause the product to literally shake itself apart. Studying packages in transit shows us what to expect during transit as well as where our products 'like to shake', making tools like our tilt indicators and condition monitoring equipment extremely helpful. Changes in geometry, materials or packaging can alter resonant frequencies away from those known to cause damage.
How Does Vibration Monitoring Work?
Vibration monitoring uses sensors that convert the force of physical movement into voltage that is then translated into data. Systems extract data from the sensor and provide a response loop to the designer, operator, maintenance staff, management, etc. who then monitor and analyze the information. Once baseline data is available, future data can be cross referenced to interpret changes in vibration. Some changes in frequency are a natural part of a machine's life cycle or are the result of an operator's unique use of the equipment. Vibrations from truck to truck, boat to boat or plane to plane will be within a comparable range. Once you can identify these normal changes or ranges, anything outside of this norm can trigger a series of responses. There's no need to have a bunch of replacement motors on the shelf if your machine is more than a year away from failure. Nobody wants to blame their shipping partner for a design flaw. Effectively assessing your equipment can save you money through reduced downtime and damage.
A Top Vibration Monitoring Product
OpsWatch provides a real-time feedback loop for frequencies up to 5,000 Hertz to identify changes in vibration as well as impact. Our vibration monitoring system can be configured to give audible alerts to operators when vibrations outside of the identified normal range occur. This immediate feedback allows an operator to make quick corrections before current use can cause further damage. Also, OpsWatch can communicate this feedback loop to others via condition-based data through a WiFi network. The data is analyzed and communicated back to operators, partners and designers who can make changes that will lengthen the life of your equipment and products. You can then establish best practices based on this detailed information. You can alter training programs and re-educate operators on how to better use your equipment. Vibration monitoring will enhance your preventative maintenance program, reduce unneeded replacement parts on the shelf and lessen the burden of an eventual failure. OpsWatch is available in an intrinsically safe version that limits electrical and thermal energy that ensures safe operation in hazardous areas where fumes, dust or other particulates may be of concern. Take the time to learn more about SpotSee, OpsWatch, and the full range of monitoring and impact sensors available to provide you with the information you need to be effective. Contact us today to speak with a knowledgeable member of our team to see how we can help.
Technical Support
Below you will find technical support videos to help you get started once you have purchased our products and services.
Didn't Find The Answer To Your Question?
OpsWatch Configuration
OpsWatch Battery Installation
OpsWatch Software Introduction Mobile Device
OpsWatch Configuration Mobile Device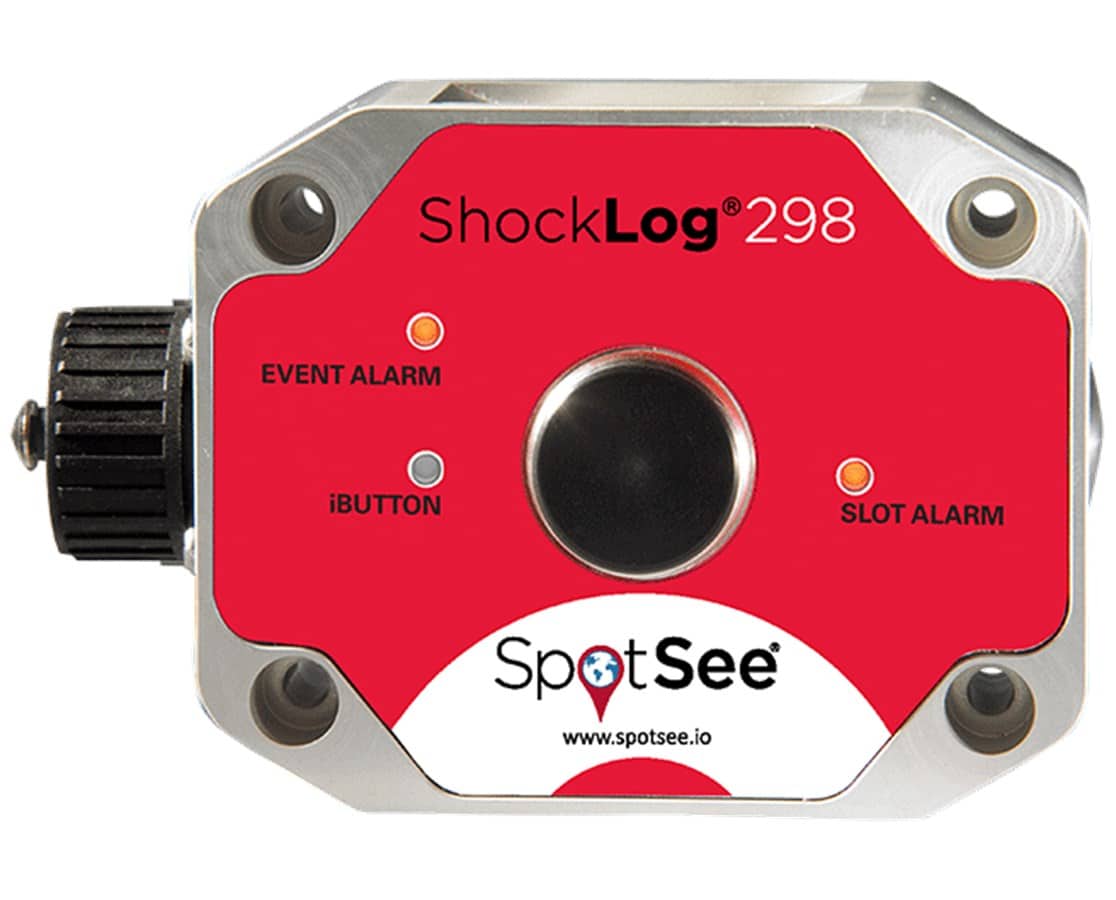 The impact recorder with the lowest noise floor on the market lets you monitor assets weighing up to 250 tons.